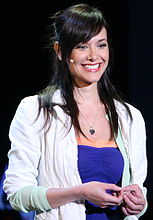 Jade Raymond (born 28 August, 1975 in Montreal, Canada) is a Canadian video game executive currently working as the Managing Director of Ubisoft Toronto.
Biography
Edit
She graduated from Marianopolis College and enrolled in McGill University's computer science program. Her first post-college job was as a programmer for Sony, where she eventually helped in the creation of Sony Online's first Research and Development group. This led to Electronic Arts where she worked as a producer on The Sims Online. In 2004, she started working for Ubisoft Montreal, where she was appointed as producer of Assassin's Creed. Raymond later joined the G4 program The Electric Playground as a correspondent, working with Victor Lucas, Tommy Tallarico and Julie Stoffer. She volunteers for a non-profit organization called LOVE, dedicated to ending violence among youth in Canada. Raymond considers herself an avid gamer. In July of 2009, Jade was named Managing Director of Ubisoft Toronto studio.
Sony Online Entertainment
Jeopardy!(Programmer)
Trivial Pursuit (Programmer)
Electronic Arts
The Sims Online (2002) (Producer)
There Inc
There (2003) (Producer/Art)
Ubisoft Montreal
Assassin's Creed (2007) (Producer)
Assassin's Creed II (2009) (Executive Producer)
Ad blocker interference detected!
Wikia is a free-to-use site that makes money from advertising. We have a modified experience for viewers using ad blockers

Wikia is not accessible if you've made further modifications. Remove the custom ad blocker rule(s) and the page will load as expected.